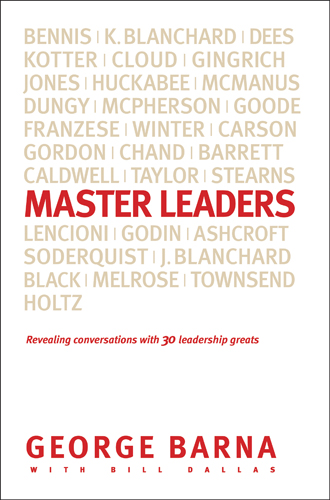 George Barna has written so many books on topics like leadership, the Christian faith, and church ministry that I am surprised that it has taken me so long to read one of them. That changed when I received a copy of Barna's most recent book Master Leaders: Revealing Conversations with 30 Leadership Greats.
Barna's imagination takes the reader along with 30 contemporary leaders to attend the Master Leader Conference. The account of this fictional conference allows the reader to eavesdrop in on many behind the scenes conversations that take place between the conference speakers pertaining to a number of leadership principles.
Although the setting of the conversations is fictional, Barna's research is not. Barna has creatively woven together many quotes from his interviews with leaders in business, sports, government, education, and Christian ministry in a way that keeps the reader engaged.
I found that this book was very well organized with respect to the various principles of leadership Barna wished to demonstrate. Although I read the book cover to cover, one might find that particular chapters would be more relevant to their present situation.
As a pastor I found it very helpful to read a book on leadership that wasn't written entirely from a Christian ministry perspective. The variety of leadership backgrounds presented gave a more complete picture about what leadership is in way that could be translated into almost any area.
Master Leaders will stay on my self, and I would recommend it to anyone currently serving in a position of leadership, or for anyone wanting to encourage the leaders that they serve under.
You can read the first chapter of Master Leaders in PDF format.
Note: A copy of Master Leaders was provided to me free from Tyndale House Publishers as a part of the Tyndale Blog Network. The opinions I have expressed are my own.